---
Bonvin, Président(s) !
Un Valaisan Président de la Confédération ! Une grande première en 1967 pour Roger Bonvin, ancien Président de Sion de 1955 à 1962. Six années durant, Roger Bonvin voua corps et âme au développement de sa ville, notamment en terme d'urbanisation, avant d'être élu conseiller fédéral en 1962. Homme d'action proche du peuple, cet ingénieur de formation était connu pour aller « droit au but » et pour susciter l'enthousiasme de son auditoire.
Vom Gemeindepräsidenten zum Bundespräsidenten
Ein Walliser wird Bundespräsident! Das Jahr 1967 bedeutete für Roger Bonvin eine grosse Premiere. Der frühere Gemeindepräsident von Sitten hatte sich zwischen 1955 und 1962 mit viel Herzblut dem Gemeindegeschehen und der Entwicklung seiner Stadt gewidmet, bevor er im Jahre 1962 in den Bundesrat gewählt wurde. Als Mann der Tat und für seine Volksnähe bekannt, verstand es der gelernte Bauingenieur zielstrebig ans Werk zu gehen und seine Zuhörer in den Bann zu ziehen.
From Mayor to President!
A Valais-born President of the Swiss Confederation! Roger Bonvin, Sion's Mayor from 1955 to 1962, scored a first for the canton when he became the nation's President in 1967. For six years, Roger Bonvin devoted body and soul to developing his city, especially in terms of urban planning, before he was elected to the Federal Council in 1962. An engineer by training, Bonvin was a man of action who had a close bond with the people. He was renowned for "getting straight to the point" and rousing his audience's enthusiasm.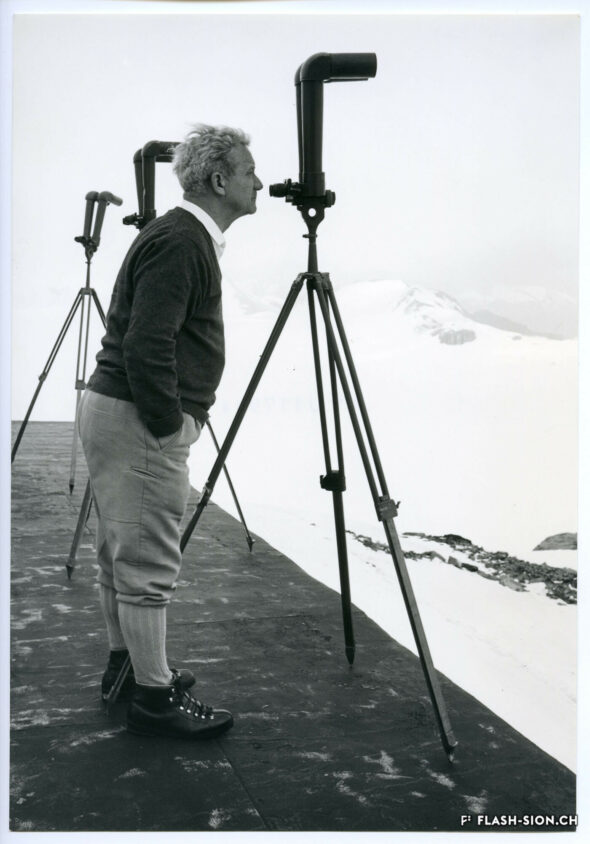 Roger Bonvin en observation dans le cadre d'un cours alpin, vers 1960 © AMF, Archives de la Ville de Sion – dépôt Charlotte et Monique Bonvin
Roger Bonvin auf Beobachtungsposten im Rahmen einer Gebirgsausbildung, um 1960 © AMF, Stadtarchiv Sitten – Depositum Charlotte und Monique Bonvin
Roger Bonvin observing a military exercise in the Alps, about 1960 © AMF, Sion Municipal Archives – materials deposited by Charlotte and Monique Bonvin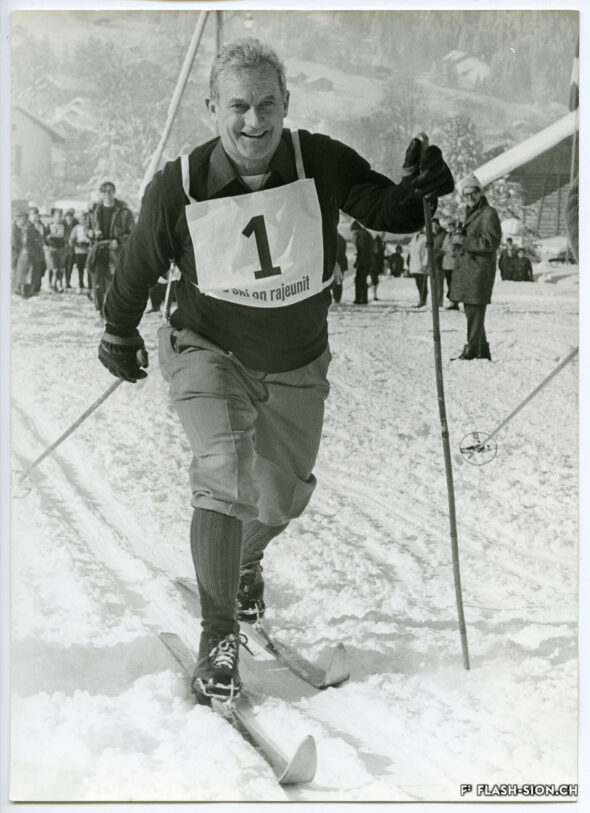 Le parlementaire fédéral Roger Bonvin dans une épreuve de ski à St-Moritz, 1960 © ASL, Archives de la Ville de Sion – dépôt Charlotte et Monique Bonvin
Der Bundesparlamentarier Roger Bonvin an einem Skirennen in St. Moritz, 1960 © ASL, Stadtarchiv Sitten – Depositum Charlotte und Monique Bonvin
Federal parliamentarian Roger Bonvin at a skiing competition in St. Moritz, 1960 © ASL, Sion Municipal Archives – materials deposited by Charlotte and Monique Bonvin
Roger Bonvin dans le vestibule de l'Hôtel de Ville, devant l'inscription d'Asclépiodote, 1962 © PhotoPress AG Zurich, Keystone, Archives de la Ville de Sion – dépôt Charlotte et Monique Bonvin
Roger Bonvin in der Eingangshalle des Rathauses, vor der Inschrift des Asklepiodotus, 1962 © PhotoPress AG Zurich, Keystone, Stadtarchiv Sitten – Depositum Charlotte und Monique Bonvin
Roger Bonvin in the entrance lobby of the Town Hall, in front of the Asclepiodotus inscription, 1962 © PhotoPress AG Zurich, Keystone, Sion Municipal Archives – materials deposited by Charlotte and Monique Bonvin
Election de Roger Bonvin au Conseil fédéral, Berne, 1962 © Roger Bonvin, TSR, Médiathèque Valais – Martigny
Wahl von Roger Bonvin zum Bundesrat, Bern, 1962 © Roger Bonvin, TSR, Mediathek Wallis – Martigny
Election of Roger Bonvin to the Federal Council, Berne, 1962 © Roger Bonvin, TSR, Valais – Martigny Médiathèque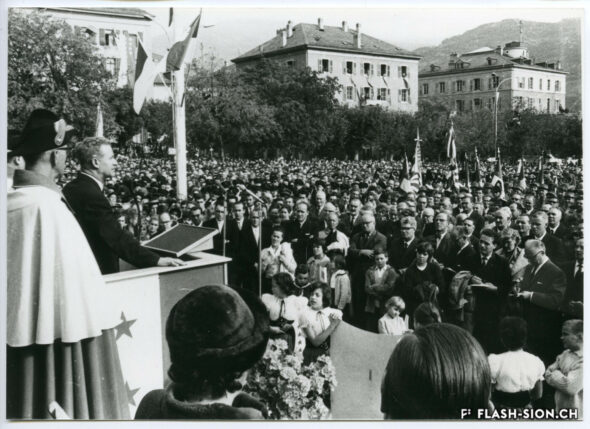 Discours de Roger Bonvin sur la place de la Planta suite à son élection en tant que conseiller fédéral, 1962 © Archives de la Ville de Sion – dépôt Charlotte et Monique Bonvin
Rede von Roger Bonvin nach seiner Wahl zum Bundesrat beim Empfang auf dem Plantaplatz, 1962 © Stadtarchiv Sitten – Depositum Charlotte und Monique Bonvin
Speech given by Roger Bonvin at place de la Planta following his election to the Federal Council in 1962 © Sion Municipal Archives – materials deposited by Charlotte and Monique Bonvin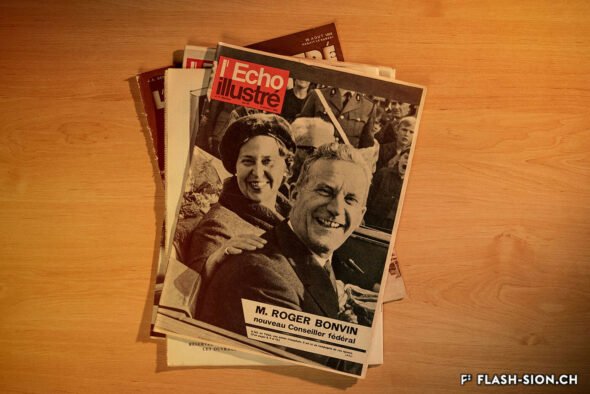 Roger Bonvin, nouveau conseiller fédéral, à la une de l'Echo illustré, 1962 © Pentamedia, Archives de la Ville de Sion
Roger Bonvin als neugewählter Bundesrat auf der Titelseite des "Echo illustré", 1962 © Pentamedia, Stadtarchiv Sitten
Roger Bonvin, the new Federal Councillor, on the front page of "Echo illustré", 1962 © Pentamedia, Sion Municipal Archives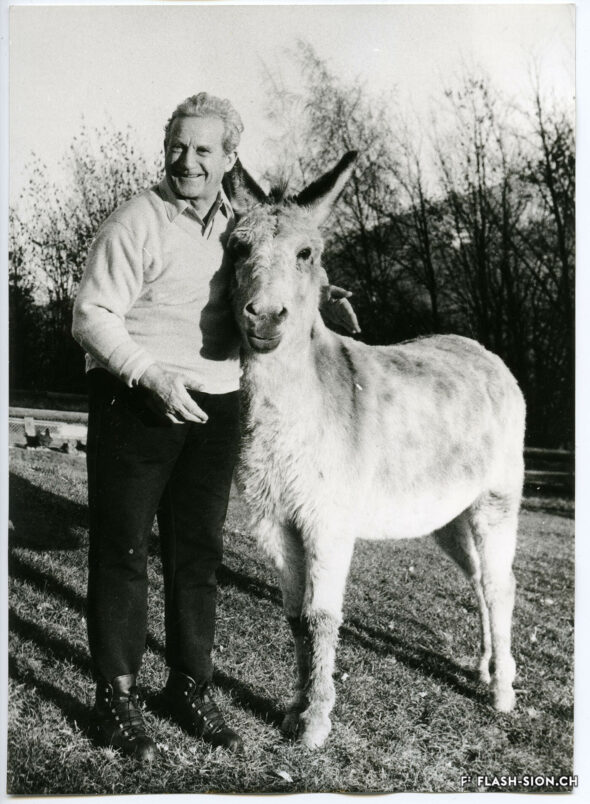 Roger Bonvin et l'âne de sa fille Monique, vers 1965 © ASL, Archives de la Ville de Sion – dépôt Charlotte et Monique Bonvin
Roger Bonvin mit dem Esel von seiner Tochter Monique, um 1965 © ASL, Stadtarchiv Sitten – Depositum Charlotte und Monique Bonvin
Roger Bonvin and his daughter Monique's donkey, about 1965 © ASL, Sion Municipal Archives – materials deposited by Charlotte and Monique Bonvin
Roger Bonvin dans la cour intérieure de sa maison, à la rue du Grand-Pont 29, 1965© Scope, Archives de la Ville de Sion – dépôt Charlotte et Monique Bonvin
Roger Bonvin im Innenhof seines Hauses, Rue du Grand-Pont 29, 1965© Scope, Stadtarchiv Sitten – Depositum Charlotte und Monique Bonvin
Roger Bonvin in the inner courtyard of his house, rue du Grand-Pont 29, 1965© Scope, Sion Municipal Archives – materials deposited by Charlotte and Monique Bonvin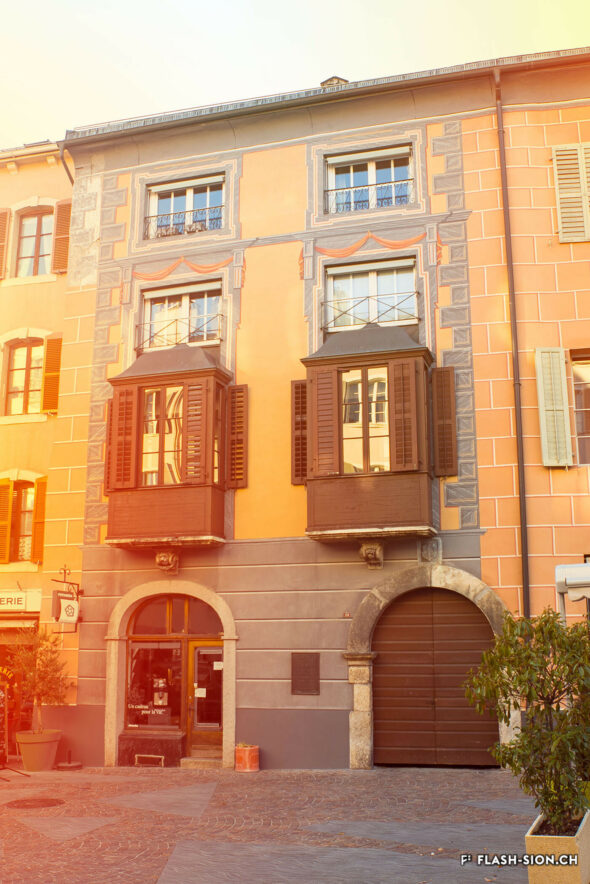 Maison où vécut Roger Bonvin, de 1953 à 1982, à la rue du Grand-Pont 29, 2018 © Pentamedia, Archives de la Ville de Sion
Haus, in dem Roger Bonvin zwischen 1953 und 1982 wohnte, Rue du Grand-Pont 29, 2018 © Pentamedia, Stadtarchiv Sitten
House where Roger Bonvin lived from 1953 to 1982, rue du Grand-Pont 29, 2018 © Pentamedia, Sion Municipal Archives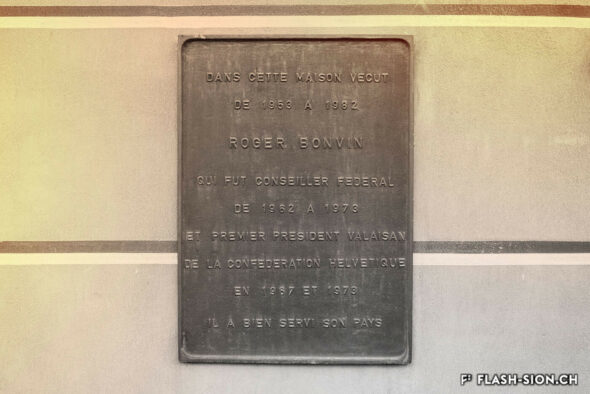 Plaque commémorative sur la maison où vécut Roger Bonvin, 2018 © Pentamedia, Archives de la Ville de Sion
Gedenktafel an dem Haus von Roger Bonvin, 2018 © Pentamedia, Stadtarchiv Sitten
Commemorative plaque on the house where Roger Bonvin lived, 2018 © Pentamedia, Sion Municipal Archives
Roger Bonvin dans le train vers Sion après son élection en tant que président de la Confédération, 1966 © RTS Radio Télévision Suisse, montage Pentamedia
Roger Bonvin auf der Zugfahrt Richtung Sion nach seiner Wahl zum Bundespräsidenten, 1966 © RTS Radio Télévision Suisse, Schnitt Pentamedia
Roger Bonvin travelling in the train to Sion after being elected President of the Swiss Confederation, 1966 © RTS Swiss Radio Television, montage: Pentamedia
Roger Bonvin encourage les citoyens suisses de sexe masculin à accorder le droit de vote aux femmes, 1971 © RTS Radio Télévision Suisse
Roger Bonvin ermutigt die Schweizer Bürger männlichen Geschlechts, die Vorlage über die Einführung des Frauenstimmrechts anzunehmen, 1971 © RTS Radio Télévision Suisse
Roger Bonvin encouraging male Swiss citizens to grant women the right to vote, 1971 © RTS Swiss Radio Television