---
La télé dans le viseur
La télévision débarque à Sion pour la première fois en 1958, grâce à la pugnacité de l'ingénieur Serge Michelotti. Arrivé en Valais en 1944, cet inventeur jurassien spécialisé en radio-électricité s'indigne que le Valais n'ait pas encore accès au petit écran, la faute aux montagnes élevées. Afin de capter l'émetteur romand de la Dôle (VD), il installe une station relais sur les hauteurs de Veysonnaz. Il s'agit du premier réémetteur privé de Suisse. Les Valaisans découvrent avec joie la première émission officielle de la télévision le 17 avril, sur la centaine de postes installés dans les cafés de la région.
Den Fernseher im Auge
Das Fernsehen feiert 1958 seine Premiere in Sitten und ist der Beharrlichkeit des Ingenieurs Serge Michelotti zu verdanken. Der auf Radioelektrizität spezialisierte Tüftler aus dem Jura zieht 1944 ins Wallis. Er zeigt sich empört darüber, dass das Wallis wegen seiner geographischen Lage, umgeben von hohen Gebirgsketten, noch keinen Zugang zum Fernsehen hat. Um den welschen Sender auf dem La Dôle (VD) zu empfangen, installiert er eine Relaisstation oberhalb von Veysonnaz. Dabei handelt es sich um die erste private Sendestation der Schweiz. Am 17. April ist es soweit. Mit Begeisterung führen sich die Walliser die erste offizielle Fernsehsendung vor den rund hundert, in Gasthäusern der Region installierten Geräten zu Gemüte.
TV within reach
Television first arrived in Sion in 1958 thanks to the pugnacity of engineer Serge Michelotti. As he came to Valais in 1944, the Jurassian maker and specialist in radio electricity is outraged that Valais does not have access to the small screen yet, due to high mountains. In order to receive the romand transmitter of La Dôle (VD), he sets up a relay station on the heights of Veysonnaz. This is the first private retransmitter in Switzerland. The Valaisans people enthusiastically discover the first official television broadcast on April 17, on the hundreds of stations installed in local cafés.
« Monsieur TV », Serge Michelotti dans son premier atelier sédunois, au-dessus du magasin Electra, à la rue des Remparts, environ 1945-1950 © Archives de la Ville de Sion, fonds Michelotti
"Herr TV" Serge Michelotti in seinem ersten Sittener Atelier über dem Geschäft Electra an der Rue des Remparts, um 1945-1950 © Stadtarchiv Sitten – Depositum Michelotti
« Mister TV », Serge Michelotti, in his first workshop in Sion, above the shop Electra, at the rue des Remparts, around 1945-1950 © Archives de la Ville de Sion, Michelotti funds
Les premiers tests du réémetteur à Veysonnaz, sur le chalet mis à disposition par la famille Hulliger pour abriter les installations, 1957 © Archives de la Ville de Sion, fonds Michelotti
Erste Testversuche mit dem auf dem Chalet der Familie Hulliger installierten Umlenksender in Veysonnaz, 1957 © Stadtarchiv Sitten – Depositum Michelotti
First testing of retransmitter in Veysonnaz, on the chalet provided by the Hulliger family to house the installations, 1957 © Archives de la Ville de Sion, Michelotti funds
Grâce au soutien de Roger Bonvin, la commune reçoit enfin des PTT l'accord pour la concession d'un émetteur-relais TV à Veysonnaz, 14 octobre 1957 © Archives de la Ville de Sion, fonds Michelotti
Dank dem Einsatz von Roger Bonvin erhält die Gemeinde schliesslich eine Konzession der PTT für die Sendestation in Veysonnaz, 14. Oktober 1957 © Stadtarchiv Sitten – Depositum Michelotti
Thanks to the support of Roger Bonvin, the City finally receives PTT's agreement on the granting of a TV relay-transmitter in Veysonnaz, October 14, 1957 © Archives de la Ville de Sion, Michelotti funds
Les premières images captées de la TV lors des tests du réémetteur, 1957-1958 © Archives de la Ville de Sion, fonds Michelotti
Erste Fernsehbilder bei den Testversuchen mit dem Umlenksender, 1957-1958 © Stadtarchiv Sitten – Depositum Michelotti
The first images captured on TV during the testing of the retransmitter, 1957-1958 © Archives de la Ville de Sion, Michelotti funds
Annonce de l'arrivée de la TV à Sion dans la presse, 17 avril 1958 © Archives de la Ville de Sion, fonds Michelotti
Presseinserat zur Einführung des Fernsehens in Sitten, 17. April 1958 © Stadtarchiv Sitten – Depositum Michelotti
Annoucing of TV implementation in Sion in the press, April 17, 1958 © Archives de la Ville de Sion, Michelotti funds
Passants curieux devant la vitrine du magasin Electra à la rue des Remparts, 17 avril 1958 © Archives de la Ville de Sion, fonds Michelotti, photo Mussler
Neugierige Passanten vor dem Geschäft Electra an der Rue des Remparts, 17. April 1958 ©
Curious passers-by in front of the showcase window of the shop Electra at the rue des Remparts, April 17, 1958 © Archives de la Ville de Sion, Michelotti funds, picture Mussler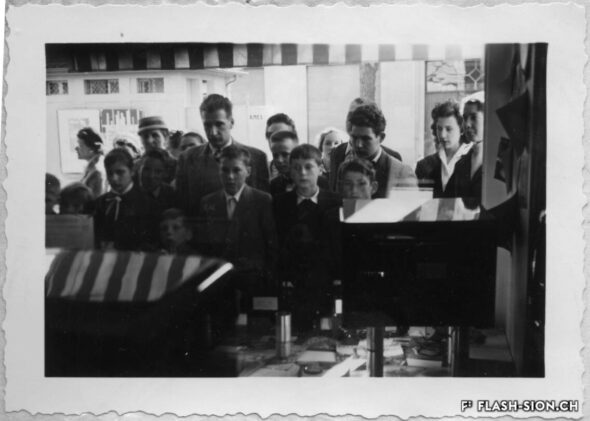 Téléspectateurs captivés devant le magasin Electra de la rue des Remparts, 17 avril 1958 © Archives de la Ville de Sion, fonds Michelotti, photo Mussler
Faszinierte Schaulustige vor dem Geschäft Electra an der Rue des Remparts, 17. April 1958 ©
Captivated TV viewers in front of the shop Electra at the rue des Remparts, April 17, 1958 © Archives de la Ville de Sion, Michelotti funds, picture Mussler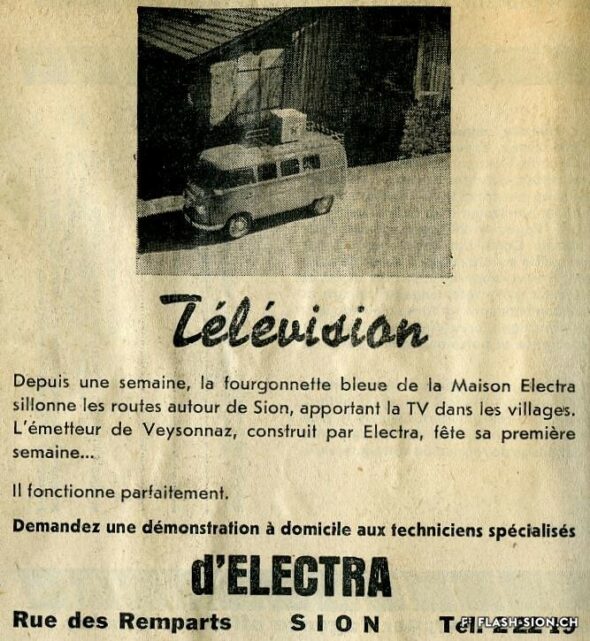 Après le succès du 17 avril 1958, les techniciens d'Electra ne chômèrent pas © Archives de la Ville de Sion, fonds Michelotti
Nach dem Erfolg vom 17. April 1958 hatten die Techniker von Electra alle Hände voll zu tun ©
As a result of the success of April 17, 1958, the technicians of Electra were busy enough © Archives de la Ville de Sion, Michelotti funds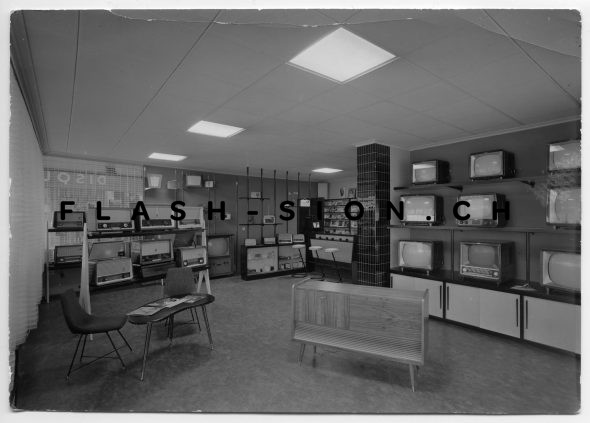 Intérieur du nouveau magasin Electra à la rue de la Porte-Neuve, novembre 1958 © Archives de la Ville de Sion, fonds Michelotti
Inneneinrichtung des neuen Geschäftes Electra an der Rue de la Porte-Neuve, November 1958 © Stadtarchiv Sitten – Depositum Michelotti
Interior of the new shop Electra at the rue de la Porte-Neuve, November 1958 © Archives de la Ville de Sion, Michelotti funds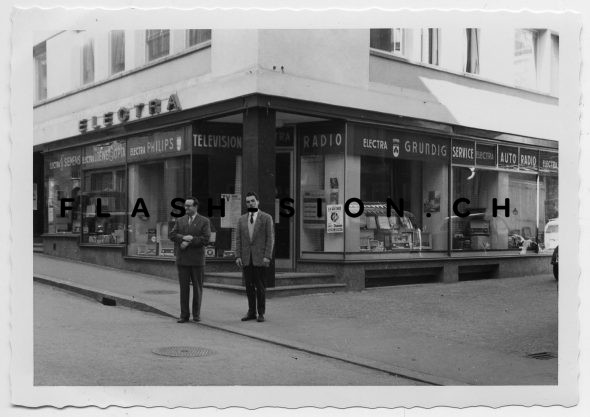 Vitrine du nouveau magasin Electra à la rue de la Porte-Neuve, novembre 1958 © Archives de la Ville de Sion, fonds Michelotti
Schaufenster des neuen Geschäftes Electra an der Rue de la Porte-Neuve, November 1958 Stadtarchiv Sitten – Depositum Michelotti
Showcase window of the new shop Electra at the rue de la Porte-Neuve, November 1958 © Archives de la Ville de Sion, Michelotti funds
Le pylône définitif de Veysonnaz, tri-directionnel et d'une hauteur de 15 m, 24 avril 1959. © Archives de la Ville de Sion, fonds Michelotti
Definitiver, tri-direktionaler, 15 Meter hoher Sendeturm von Veysonnaz, 24. April 1959 © Stadtarchiv Sitten – Depositum Michelotti
The final pylon of Veysonnaz, tri-directional and 15m high, April 24, 1959. © Archives de la Ville de Sion, Michelotti funds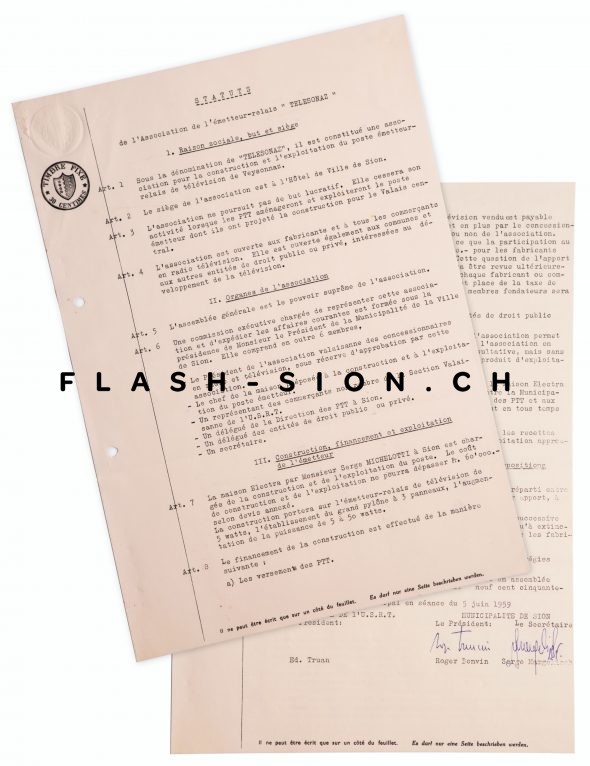 Statuts de « TELESONAZ », l'association destinée à assurer le financement de la construction et l'exploitation du poste émetteur-relais de télévision de Veysonnaz, 5 juin 1959 © Archives de la Ville de Sion
Statuten des Vereins "TELESONAZ", der zur Finanzierung von Bau und Betrieb der Fernseh-Sendestation in Veysonnaz gegründet wurde, 5. Juni 1959 © Stadtarchiv Sitten
Statutes of « TELESONAZ », the association intended to ensure the financing of the construction and operation of Veysonnaz television transmitter-relay station, June 5, 1959 © Archives de la Ville de Sion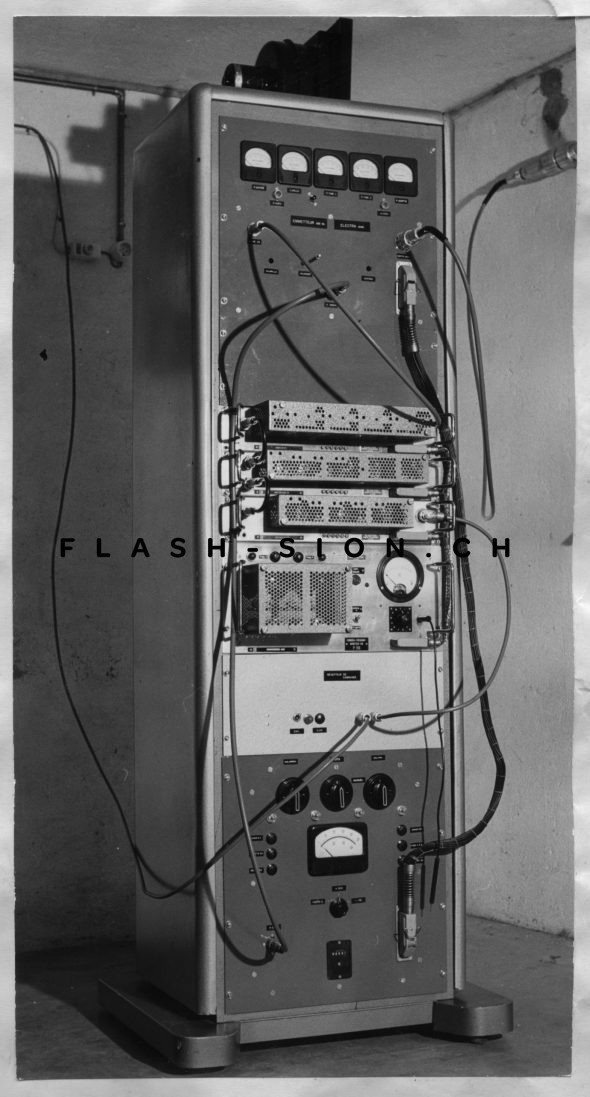 L'installation du réémetteur de Veysonnaz se termine le 22 août 1960 et permet de passer d'une puissance de 5 à 100 watts © Archives de la Ville de Sion, fonds Michelotti
Am 22. August 1960 ist die Installation des Umlenksenders von Veysonnaz fertiggestellt und erlaubt die Sendeleistung von 5 auf 100 Watt zu erhöhen © Stadtarchiv Sitten – Depositum Michelotti
The installation of the Veysonnaz retransmitter was completed on August 22, 1960 and allowed a shift from 5 to 100 watts © Archives de la Ville de Sion, Michelotti funds