---
Le Saint-Bernard volant
545. C'est le nombre de vies sauvées par l'« Aigle de Sion », Hermann Geiger. Avec son Piper Super Cub équipé de skis rétractables, le pilote est devenu une légende en atterrissant le premier sur un glacier, en 1952. Grâce à son audace, celui que l'on appelle le pilote des glaciers ouvre ainsi la voie du sauvetage en montagne et cofonde Air-Glaciers, un an avant son décès tragique à l'aéroport de Sion en 1966.
Der fliegende Bernhardiner
545 Menschenleben hat der Gletscherpilot Hermann Geiger in seiner Karriere gerettet. Der "Adler aus Sitten" ging 1952 in die Geschichte ein, als er mit seinem Piper Super Cub mit einziehbaren Metallskis und einer speziellen Landetechnik als erster auf einem Gletscher landete. Dank seiner Kühnheit hat Geiger der professionellen Bergrettung den Weg bereitet und wurde, nur gerade ein Jahr vor seinem tragischen Tod am Flughafen von Sitten im Jahre 1966, Mitbegründer von Air-Glacier.
The flying St. Bernard
545. That's how many lives were saved by Hermann Geiger, the "Eagle from Sion". This pilot achieved legendary status when, in 1952, he became the first to touch down on a glacier in his Piper Super Cub – fitted with retractable skis. The daring exploits of the "Pilot of the Glaciers" (as he was also known) paved the way for the mountain rescue service; he co-founded the Air-Glaciers company a year before his tragic death at Sion airport in 1966.
Hermann Geiger nourrissant un bélier, 1955 © Oscar Darbellay, Médiathèque Valais – Martigny
Hermann Geiger füttert einen Widder, 1955 © Oscar Darbellay, Mediathek Wallis - Martigny
Hermann Geiger feeding a ram, 1955 © Oscar Darbellay, Valais – Martigny Médiathèque
Hermann Geiger aux commandes de son Piper Super Cub, 1955 © Joseph Couchepin, Médiathèque Valais – Martigny
Hermann Geiger am Steuer seines Piper Super Cub, 1955 © Joseph Couchepin, Mediathek Wallis – Martigny
Hermann Geiger at the controls of his Piper Super Cub, 1955 © Joseph Couchepin, Valais – Martigny Médiathèque
Atterrissage en montagne, vers 1955 © Hermann Geiger, Médiathèque Valais – Martigny
Gebirgslandung, um 1955 © Hermann Geiger, Mediathek Wallis - Martigny
Touching down in the mountains, about 1955 © Hermann Geiger, Valais – Martigny Médiathèque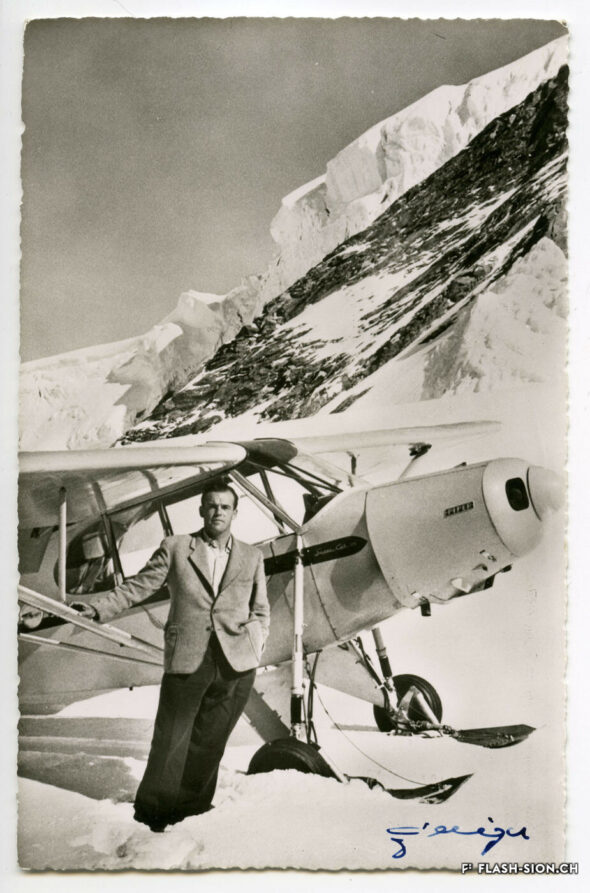 Hermann Geiger devant son Piper Super Cub, carte postale dédicacée, non datée © Archives de la Ville de Sion
Hermann Geiger vor seinem Piper Super Cub, signierte Postkarte, nicht datiert © Stadtarchiv Sitten
Hermann Geiger in front of his Piper Super Cub, postcard with dedication, undated © Sion Municipal Archives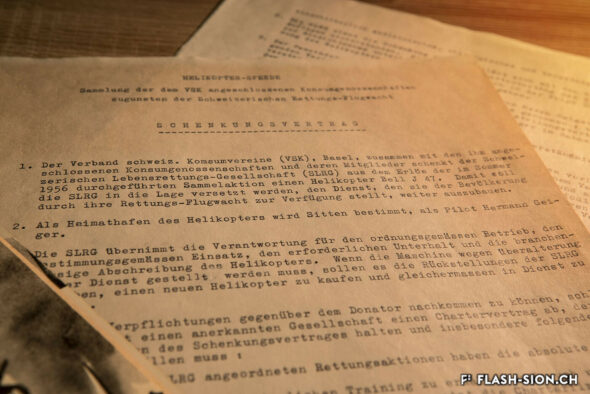 Convention de 1957 définissant Sion comme base pour l'hélicoptère de sauvetage et Hermann Geiger comme pilote, 2018 © Pentamedia, Archives de la Ville de Sion
Konvention aus 1957, die Sitten als Basisstation des Rettungshubschraubers und Hermann Geiger als Pilot festhält, 2018 © Pentamedia, Stadtarchiv Sitten
1957 agreement specifying Sion as the base for the rescue helicopter and Hermann Geiger as the pilot, 2018 © Pentamedia, Sion Municipal Archives
Début du sauvetage en hélicoptère en Valais, sauvetage en montagne par Hermann Geiger, 2012 © Anne Zen-Ruffinen, Médiathèque Valais – Martigny
Die Anfänge der Hubschrauber-Rettung im Wallis, Hermann Geiger bei einer Bergrettung, 2012 © Anne Zen-Ruffinen, Mediathek Wallis - Martigny
The launch of the helicopter rescue service in Valais, mountain rescue by Hermann Geiger, 2012 © Anne Zen-Ruffinen, Valais – Martigny Médiathèque
Opération de sauvetage par Hermann Geiger, vers 1960 © Hermann Geiger, Médiathèque Valais – Martigny
Hermann Geiger bei einem Rettungseinsatz, um 1960 © Hermann Geiger, Mediathek Wallis – Martigny
Rescue mission by Hermann Geiger, about 1960 © Hermann Geiger, Valais – Martigny Médiathèque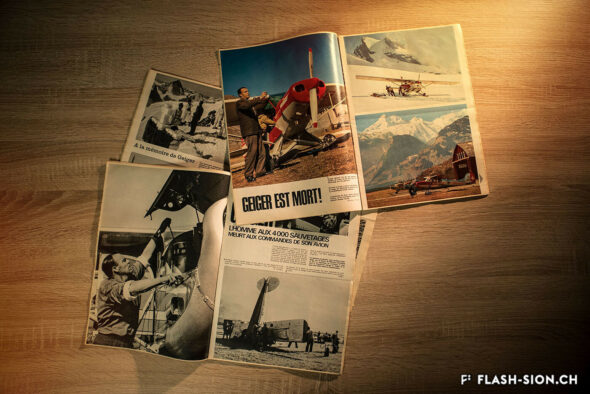 Divers Echos illustrés relatant le décès tragique d'Hermann Geiger, 1966 © Pentamedia, Archives de la Ville de Sion
Verschiedene Ausgaben des "Echo illustré" berichten über den tragischen Tod Hermann Geigers, 1966 © Pentamedia, Stadtarchiv Sitten
Various issues of "Echo illustré" reporting the tragic death of Hermann Geiger, 1966 © Pentamedia, Sion Municipal Archives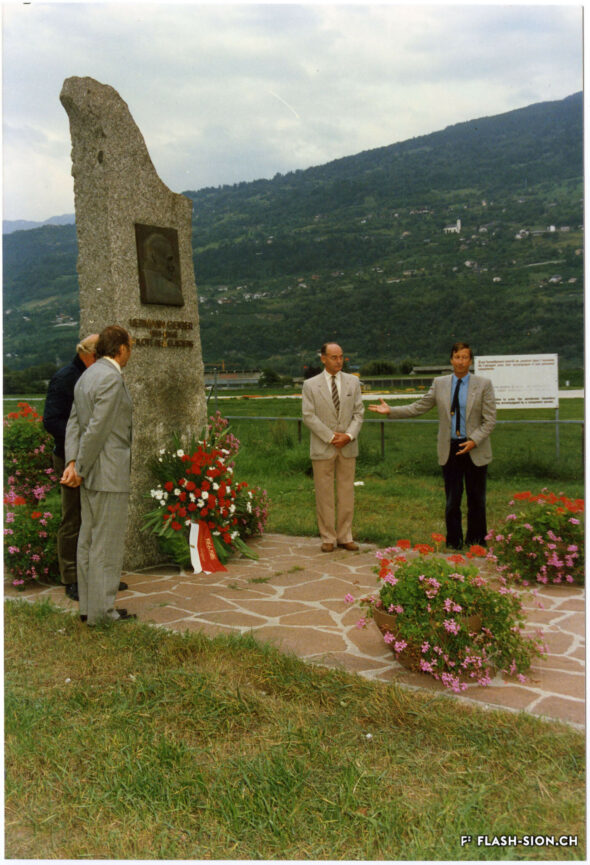 Inauguration de la stèle Hermann Geiger à l'aéroport de Sion, 1986 © Archives de la Ville de Sion
Einweihung der Hermann-Geiger-Stele am Flughafen von Sitten, 1986 © Stadtarchiv Sitten
Inauguration of the Hermann Geiger monument at Sion Airport, 1986 © Sion Municipal Archives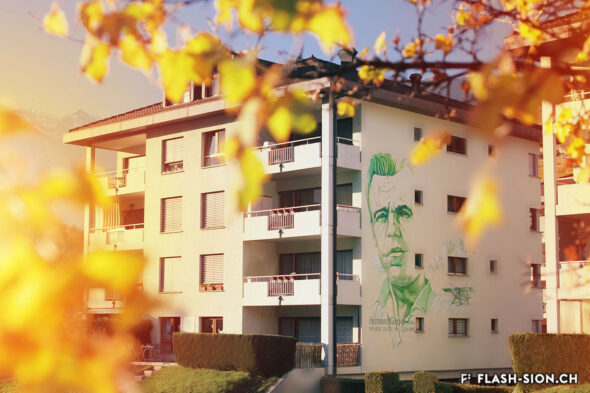 Fresque hommage réalisée par Pascal Bérod en 2014, au numéro 16 de la rue Hermann-Geiger, 2018 © Pentamedia, Archives de la Ville de Sion
Fresko-Hommage von Pascal Bérod aus dem Jahr 2014, Rue Hermann-Geiger Nr. 16, 2018 © Pentamedia, Stadtarchiv Sitten
Commemorative fresco created by Pascal Bérod in 2014, at no. 16, rue Hermann-Geiger, 2018 © Pentamedia, Sion Municipal Archives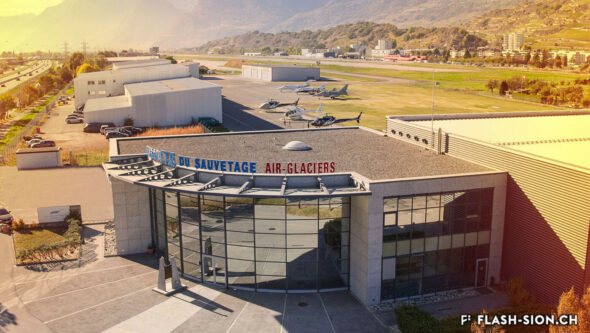 La Maison François-Xavier Bagnoud du sauvetage, créée en 1995 sous l'impulsion de Bruno Bagnoud, directeur d'Air-Glaciers, 2018 © Pentamedia, Archives de la Ville de Sion
Rettungsstation " Maison François-Xavier Bagnoud du sauvetage", 1995 auf Initiative des Air-Glaciers-Direktors Bruno Bagnoud geründet, 2018 © Pentamedia, Stadtarchiv Sitten
The François-Xavier Bagnoud Rescue House, established 1995 at the instigation of Bruno Bagnoud, Director of Air-Glaciers, 2018 © Pentamedia, Sion Municipal Archives