---
Mangia che ti fa bene
Le « Boccalino » ouvre ses portes en 1968 à la rue de Conthey. Il est le premier établissement sédunois à mettre à l'honneur la pizza, plat symbole de toute une nation. Des épiceries aux noms italiens existaient par ailleurs en vieille ville dès le début du 20e siècle, tels que Zoni&Schmidt, Zanoli ou encore Guido Nichini. Ce dernier, spécialisé dans la charcuterie et salaisons « exclusivement italiennes » avait à l'origine pignon sur la « via regia », une des appellations de l'actuelle rue de Conthey.
Mangia che ti fa bene
Das Restaurant "Boccalino" wurde 1968 in der Rue de Conthey eröffnet. Es war das erste Restaurant der Stadt, das sich ganz dem italienischen Nationalgericht, der Pizza, verschrieb. Seit Anfang des 20. Jahrhunderts sind in der Altstadt von Sitten auch Lebensmittelgeschäfte mit italienischen Namen wie Zoni&Schmidt, Zanoli und Guido Nichini bekannt. Letzterer hatte sich insbesondere auf italienische Wurst- und Pökelwaren spezialisiert und führte seinen Feinkostladen ursprünglich an der "Via Regia", wie die heutige Rue de Conthey ebenfalls genannt wurde.
Mangia che ti fa bene
The Boccalino opened on Rue de Conthey in 1968. It was the first restaurant in Sion to feature pizza – the iconic dish of an entire nation. Elsewhere in the old town, there had been grocery stores with Italian names such as Zoni&Schmidt, Zanoli and Guido Nichini since the early 20th century. Nichini, which specialised in "exclusively Italian" cooked and cured meats, originally fronted onto the "via regia", one of the names for the street now known as Rue de Conthey.
Mangia che ti fa bene
Il "Bocccalino" apre le sue porte nel 1968 nella "rue de Conthey". È il primo stabilimento di Sion ad omaggiare la pizza, piatto simbolo di tutta una nazione. Botteghe con nomi italiani esistevano d'altronde nella città vecchia già all'inizio del 20° secolo, come Zoni&Schmidt, Zanoli oppure Guido Nichini. Quest'ultimo, specializzato in prodotti di salumeria e carni affumicate "esclusivamente italiane" possedeva un negozio nella "via regia", uno dei nomi dell'attuale "rue de Conthey".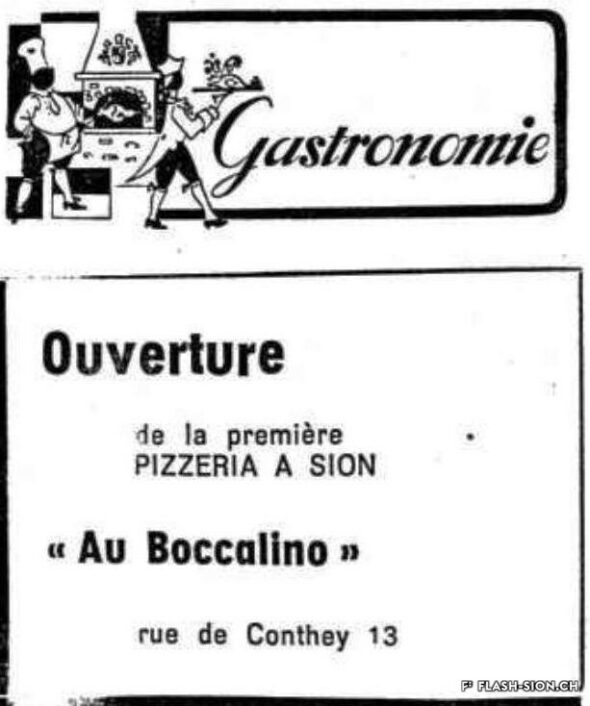 Ouverture du Boccalino, première pizzeria sédunoise © Nouvelliste et Feuille d'avis du Valais, 22 novembre 1968
Eröffnung des "Boccalino" als erste Pizzeria von Sitten © Nouvelliste et Feuille d'avis du Valais, 22. November, 1968
Opening of the Boccalino, Sion's first pizzeria © Nouvelliste et Feuille d'avis du Valais (newspapers), 22 November 1968
Apertura del Boccalino, prima pizzeria di Sion © Nouvelliste et Feuille d'avis du Valais, 22 novembre 1968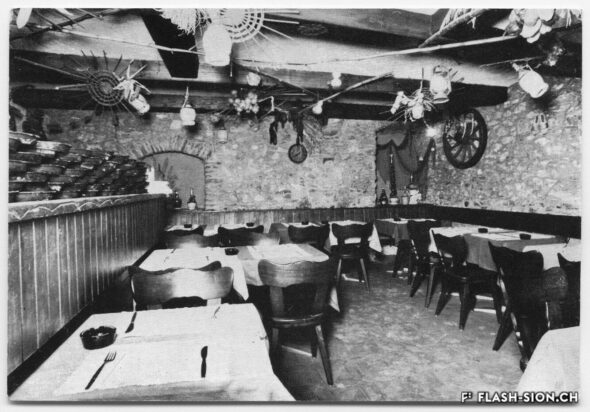 Le Boccalino, salle du restaurant, vers 1969 © archives privées Jean-Pierre Nigg
Innenansicht des "Boccalino", um 1969 © Privatarchiv von Jean-Pierre Nigg
Dining room at the Boccalino restaurant, about 1969 © Private Archives of Jean-Pierre Nigg
Il Boccalino, sala del ristorante, 1969 circa © archivi personali Jean-Pierre Nigg
En-têtes de factures de la charcuterie Nichini Guido, rue de Conthey puis rue du Rhône, 1922, 1939, 1943 © Pentamedia, Archives de la Ville de Sion, 2020
Briefkopf des Feinkostladens von Guido Nichini, Rue de Conthey und später Rue du Rhône, 1922, 1939, 1943 © Pentamedia, Stadtarchiv Sitten, 2019
Pre-printed invoices from the Nichini Guido charcuterie shop, Rue de Conthey (later: rue du Rhône), 1922, 1939, 1943 © Pentamedia, Sion Municipal Archives, 2020
Fatture intestate della salumeria Nichini Guido, sito in rue de Conthey e poi rue du Rhône, 1922, 1939, 1943 © Pentamedia, Archives de la Ville de Sion, 2020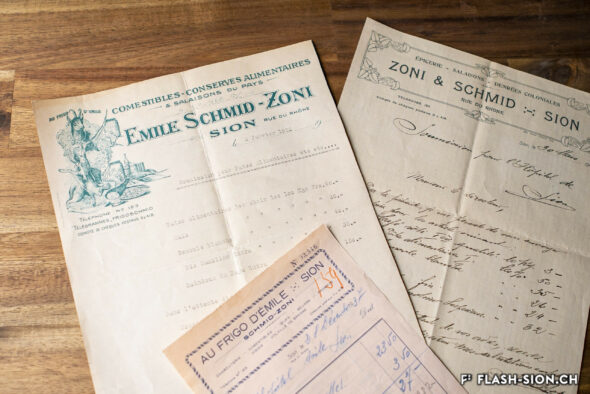 En-têtes de factures de l'épicerie Emile Schmid-Zoni « Au frigo d'Emile », rue du Rhône, 1932, 1935, 1937 © Pentamedia, Archives de la Ville de Sion, 2020
Briefkopf des Lebensmittelgeschäfts Emile Schmid-Zoni "Au frigo d'Emile", Rue du Rhône, 1932, 1935, 1937 © Pentamedia, Stadtarchiv Sitten, 2019
Pre-printed invoices from the Emile Schmid- Zoni grocery shop, "Au frigo d'Emile", Rue du Rhône, 1932, 1935, 1937 © Pentamedia, Sion Municipal Archives, 2020
Fatture intestate della bottega Emile Schmid-Zoni "Au frigo d'Emile" sito in rue du Rhône, 1932, 1935, 1937 © Pentamedia, Archives de la Ville de Sion, 2020
En-têtes de factures de l'épicerie Jules Zanoli, rue du Grand-Pont, 1922, 1927 © Pentamedia, Archives de la Ville de Sion, 2020
Briefkopf des Lebensmittelgeschäfts Jules Zanoni, Rue du Grand-Pont, 1922, 1927 © Pentamedia, Stadtarchiv Sitten, 2019
Pre-printed invoices from the Jules Zanoli grocery shop, Rue du Grand-Pont, 1922, 1927 © Pentamedia, Sion Municipal Archives, 2020
Fatture intestate della bottega Jules Zanoli, sito in rue du Grand-Pont, 1922, 1927 © Pentamedia, Archives de la Ville de Sion, 2020
Giuseppe Bertolami, premier à faire connaître aux Sédunois les ravioli, tortellini et lasagnes fraîches, et son fils Giancarlo, 1987 © archives privées Piero Marino
Giuseppe Bertolami bietet als erster Ravioli, Tortellini und frische Lasagne an in Sitten, in der Backstube mit seinem Sohn Giancarlo, 1987 © Privatarchiv Piero Marino
Giuseppe Bertolami, who was the first to introduce ravioli, tortellini and fresh lasagne to the people of Sion, and his son Giancarlo, 1987 © Private Archives of Piero Marino
Giuseppe Bertolami, il primo a far conoscere agli abitanti di Sion i ravioli, tortellini e lasagne fresche, accanto al figlio Giancarlo, 1987 © archivi personali Piero Marino