---
Philharmonie berlinoise
La talentueuse Madeleine Carruzzo n'est autre que la première femme à intégrer le prestigieux Orchestre philarmonique de Berlin en 1982. En plus d'en être la première membre féminine, elle en est également la plus jeune lorsqu'elle y entre en tant que premier violon, à l'âge de 26 ans. Embrassant très tôt une carrière internationale, Madeleine a fait rayonner l'image musicale de notre cité bien au-delà du canton et a permis d'inspirer d'autres talents féminins.
Berliner Philharmonie
Die hochbegabte Violinistin Madeleine Caruzzo war 1982 die erste Frau, die in das renommierte Orchester der Berliner Philharmoniker aufgenommen wurde. Als sie in den Reihen der ersten Violinen Platz nahm, war sie nicht nur das erste weibliche Mitglied des Orchesters, vielmehr war sie mit ihren 26 Jahren ebenfalls das jüngste. Dank dem frühen Beginn ihrer internationalen Karriere verhalf Madeleine der Stadt Sitten zu einer musikalischen Ausstrahlung weit über die Kantonsgrenzen hinaus und inspirierte so andere talentierte Frauen.
Berlin Philharmonic
In 1982, the talented violinist Madeleine Carruzzo became the first woman to join the prestigious Berlin Philharmonic Orchestra. Not only was she the first woman to play in the orchestra: she was also its youngest member when she joined the ensemble as first violin at the age of 26. Madeleine embarked on an international career very early in her life; as well as projecting the image of our city as a centre of music far beyond the canton, she has been a source of inspiration to many other talented women.
Madeleine Carruzzo à 11 ans, extrait d'un reportage sur Tibor Varga, 1967 © RTS Radio Télévision Suisse
Madeleine Carruzzo mit 11 Jahren, Ausschnitt aus einer Reportage über Tibor Varga, 1967 © RTS Radio Télévision Suisse
Madeleine Carruzzo aged 11, extract from a feature on Tibor Varga, 1967 © RTS Swiss Radio Television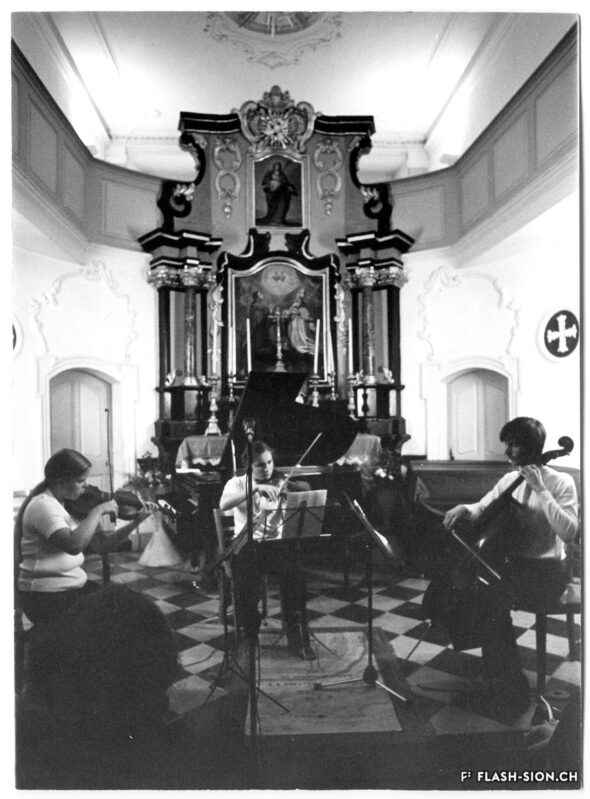 Madeleine Carruzzo, 1er violon, Anne-Marie Hutter, Françoise Deléglise lors de la cérémonie de remise du Prix de la Ville de Sion au chanoine Evéquoz © Archives de la Ville de Sion
Madeleine Carruzzo, 1. Violine, Anne-Marie Hutter, Françoise Deléglise bei der Verleihung des Preises der Stadt Sitten an den Domherren Evéquoz, 1972 © Stadtarchiv Sitten
Madeleine Carruzzo, first violin, Anne-Marie Hutter and Françoise Deléglise at the ceremony for the presentation of the Prize of the City of Sion to Canon Evéquoz, 1972 © Sion Municipal Archives
Madeleine Carruzzo lors du Festival Tibor Varga, 1983 ©Oswald Ruppen, Médiathèque Valais – Martigny
Madeleine Carruzzo beim Tibor Varga Festival, 1983 ©Oswald Ruppen, Mediathek Wallis - Martigny
Madeleine Carruzzo at the Tibor Varga Festival, 1983 ©Oswald Ruppen, Médiathèque Valais – Martigny
Madeleine et son père Félix Carruzzo, ancien président de Sion, 1988 © Robert Hofer
Madeleine und ihr Vater Félix Carruzzo, ehemaliger Stadtpräsident von Sitten, 1988 © Robert Hofer
Madeleine and her father Félix Carruzzo, former Mayor of Sion, 1988 © Robert Hofer
« Hommage à la violoniste Madeleine Carruzzo », 12h45, 2011 © RTS Radio Télévision Suisse
"Hommage an die Violonistin Madeleine Carruzzo", 12h45, 2011 © RTS Radio Télévision Suisse
"Tribute to the violinist Madeleine Carruzzo", "12h45" (television news programme), 2011 © RTS Swiss Radio Television
Remise du Prix de la Ville de Sion à Madeleine Carruzzo par Marcel Maurer, ancien président de Sion, 2012 © Caroline Oberkampff
Marcel Maurer, ehemaliger Stadtpräsident, übergibt Madeleine Carruzzo den Preis der Stadt Sitten, 2012 © Caroline Oberkampff
Presentation of the Prize of the City of Sion to Madeleine Carruzzo by Marcel Maurer, former Mayor of Sion, 2012 © Caroline Oberkampff
Extraits d'interview radio de Madeleine Carruzzo, Les petits matins, 2012 © RTS Radio Télévision Suisse
Ausschnitte aus dem Radiointerview mit Madeleine Carruzzo, Les petits matins, 2012 © RTS Radio Télévision Suisse
Extracts from a radio interview with Madeleine Carruzzo, "Les petits matins" (early morning radio show), 2012 © RTS Swiss Radio Television
Madeleine Carruzzo et son violon, 2012 © Michel Bonvin
Madeleine Carruzzo mit ihrer Geige, 2012 © Michel Bonvin
Madeleine Carruzzo et son violon, 2012 © Michel Bonvin