---
Un évêque valdôtain
Boniface de Challant, évêque de Sion de 1290 à 1308, est originaire de l'une des familles les plus puissantes du Val d'Aoste. Sachant manier avec énergie et fermeté la crosse et l'épée, il commandite la construction du château de Tourbillon, érigé au tournant du 13e siècle. Il s'inscrit ainsi dans la tradition familiale de « bâtisseurs de châteaux-forts », les Challant ayant déjà fait édifier de nombreuses forteresses dans leur vallée d'origine.
Ein Bischof aus dem Aostatal
Der zwischen 1290 und 1308 als Bischof von Sitten amtierende Bonifaz de Challant stammte aus einer der einflussreichsten Familien des Aostatals. Er handhabte Bischofsstab wie Schwert mit Tatkraft und Entschlossenheit und blieb der Familientradition der "Burgenbauer" treu. Gelten doch die Challants als Auftraggeber zahlreicher Festungen in ihrer Heimatregion. Der Bau der Burganlage von Tourbillon, die um die Wende des 13. Jahrhunderts entstanden ist, wird allgemein Bonifaz de Challant zugeschrieben.
A bishop from Val d'Aosta
Boniface de Challant, Bishop of Sion from 1290 to 1308, came from one of the most powerful families in Val d'Aosta. As a vigorous and resolute wielder of the crook and the sword, he sponsored the construction of Tourbillon Castle, built at the turn of the 13th century. In so doing, he followed the family tradition of "builders of fortified castles": the Challant family had already commissioned many fortresses in their home valley.
Un vescovo valdostano
Bonifacio di Challant, vescovo di Sion dal 1290 al 1308, proviene da una delle famiglie più potenti della Valle d'Aosta. Sapendo maneggiare con forza e fermezza il pastorale e la spada, commissiona la costruzione del castello di Tourbillon, eretto al volgere del 13° secolo. S'iscrive così a pieno titolo nella tradizione familiare dei "costruttori di fortezze", visto che gli Challant avevano già fatto edificare numerose fortezze nella loro valle d'origine.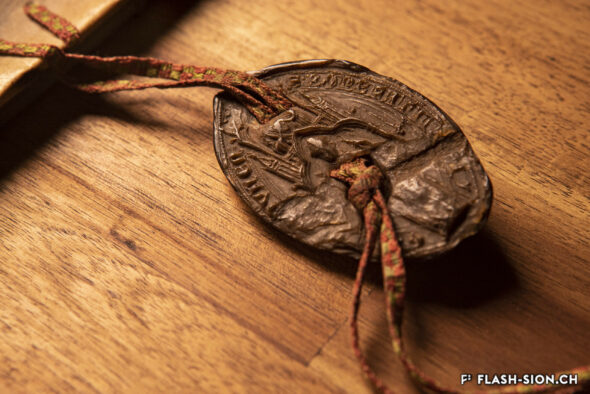 Sceau de l'évêque de Sion Boniface de Challant, validant les statuts capitulaires, 1302 © Pentamedia, Archives du Chapitre de Sion, 2019
Siegel des Bischofs Bonifaz de Challant zur Bestätigung der Kapitelstatuten, 1302 © Pentamedia, Archiv des Domkapitels von Sitten, 2019
Seal of Boniface de Challant, Bishop of Sion, validating the statutes of the Chapter, 1302 © Pentamedia, Archives of the Chapter of Sion, 2019
Sigillo del vescovo di Sion, Bonifacio de Challant, che serve a convalidare gli statuti capitolari, 1302 © Pentamedia, Archives du Chapitre de Sion, 2019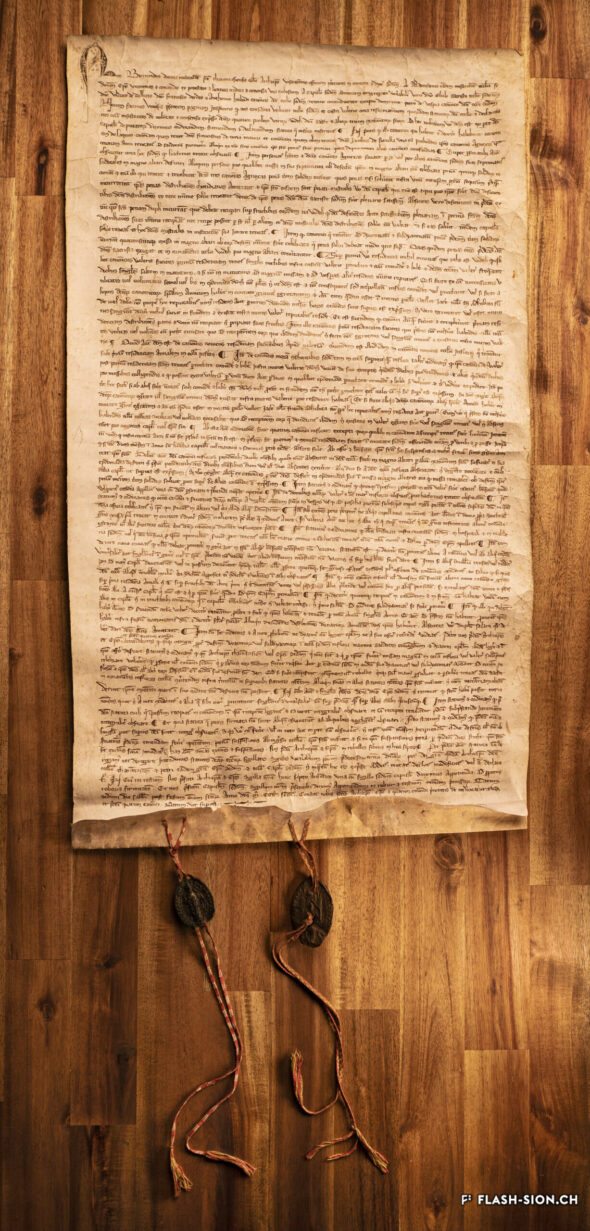 Statuts du Chapitre de Sion accordés par l'archevêque de Tarentaise Bertrand et l'évêque de Sion Boniface de Challant, 1302 © Pentamedia, Archives du Chapitre de Sion, 2019
Statuten des Domkapitels von Sitten, durch den Erzbischof von Tarantaise, Bertrand und den Bischof von Sitten, Bonifaz de Challant anerkannt, 1302 © Pentamedia, Archiv des Domkapitels von Sitten, 2019
Statutes of the Chapter of Sion granted by Bishop Bertrand of Tarentaise and Bishop Boniface de Challant of Sion, 1302 © Pentamedia, Archives of the Chapter of Sion, 2019
Statuti del Capitolo di Sion concessi dal vescovo di Tarantasia Bertrand e dal vescovo di Sion, Bonifacio de Challant, 1302 © Pentamedia, Archives du Chapitre de Sion, 2019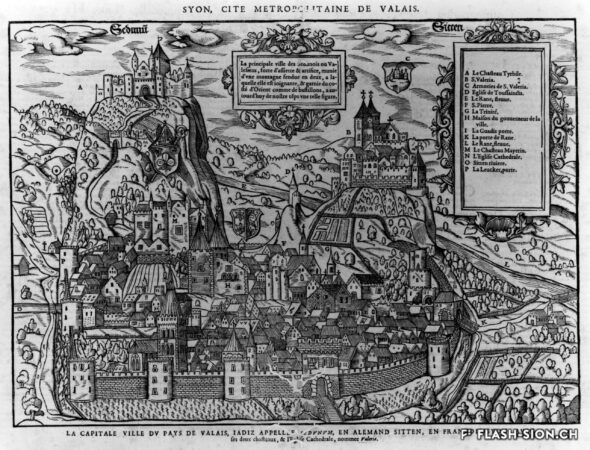 Le château de Tourbillon, construit à la fin du 13ème siècle, symbole de l'administration centralisée de Boniface de Challant © In : « Cosmographie » de Sebastian Münster, gravure sur bois, 1575
Schloss Tourbillon, Ende des 13. Jahrhunderts erbaut, Wahrzeichen der zentralisierten Verwaltung von Bonifaz de Challant © In: "Cosmographie" von Sebastian Münster, Holzstich, 1575
Tourbillon Castle, built at the end of the 13th century, a symbol of the centralised administration of Boniface de Challant © In: "Cosmographie" by Sebastian Münster, wood engraving, 1575
Il castello di Tourbillon, costruito alla fine del 13° secolo, simbolo dell'amministrazione centralizzata di Bonifacio di Challant © In: " Cosmographie" de Sébastien Münster, incisione su legno, 1575
Cour intérieure du château de Tourbillon, 1900 env. © Edition Wwe. J. Boll – Sion, Archives de la Ville de Sion
Innenhof von Schloss Tourbillon, um 1900 © Verlag Wwe. J. Boll, Stadtarchiv Sitten
Inner courtyard of Tourbillon Castle, about 1900. © Edition Wwe. J. Boll – Sion, Sion Municipal Archives
Corte interna del castello di Tourbillon, circa 1900 © Edition Wwe. J.Boll – Sion, Archives de la Ville de Sion
Porte de la première enceinte du château de Tourbillon, 1900 env. © Archives de la Ville de Sion
Äusseres Tor, Schloss Tourbillon, um 1900 © Stadtarchiv Sitten
Gate of the first enclosure of Tourbillon Castle, about 1900 © Sion Municipal Archives
Porta delle prime mura del castello di Tourbillon, 1900 circa © Archives de la Ville de Sion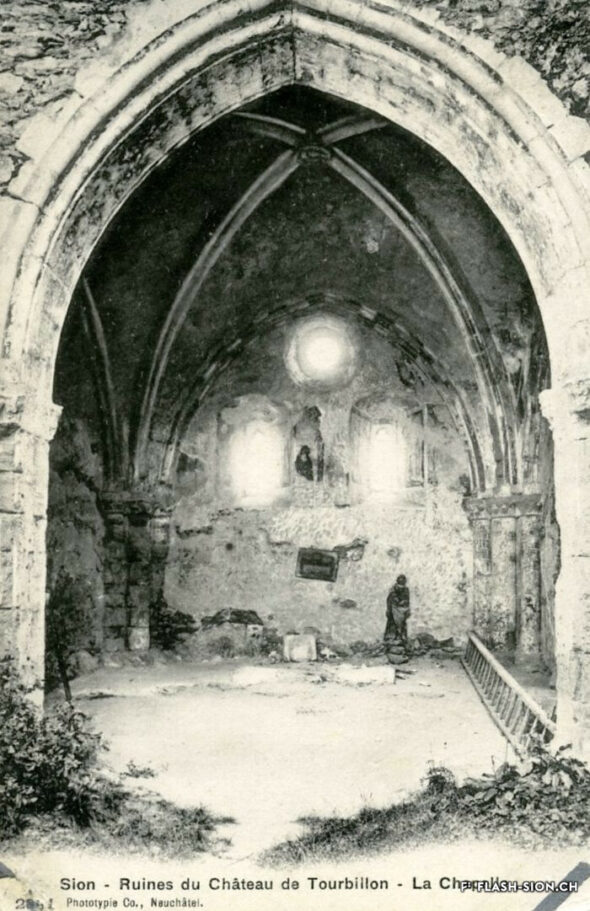 Chapelle Saint-Georges du château de Tourbillon © Phototypie Co. – Neuchâtel, Archives de la Ville de Sion
Kapelle Sankt Georg, Schloss Tourbillon © Phototypie Co. - Neuenburg, Stadtarchiv Sitten
St. George's Chapel in Tourbillon Castle © Phototypie Co. – Neuchâtel, Sion Municipal Archives
Cappella Saint-Georges del Castello di Tourbillon © Phototypie Co. – Neuchâtel, Archives de la Ville de Sion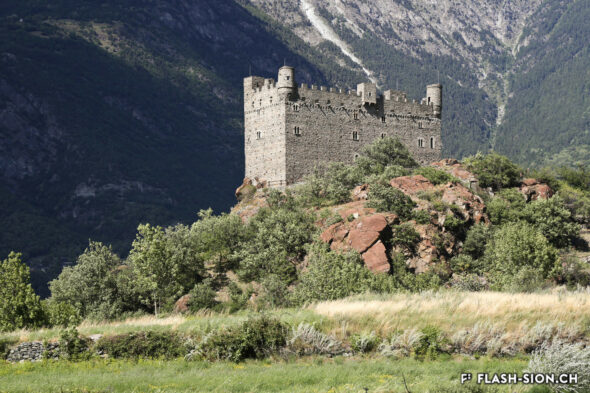 Le château d'Ussel, « construit » par Ebal II de Challant en 1343, l'un des plus gros châteaux médiévaux de la Vallée d'Aoste © Enrico Romanzi
Schloss Ussel, 1343 durch Ebal II de Challant "erbaut", eine der grössten mittelalterlichen Burgen im Aostatal © Enrico Romanzi
Ussel Castle, "built" by Ebal II de Challant in 1343, one of the largest mediaeval castles in Val d'Aosta © Enrico Romanzi
Il castello d'Ussel, «costruito» da Ebal II di Challant nel 1343, è uno dei più grandi castelli medievali della Valle d'Aosta © Enrico Romanzi
Interview de Cédric Jossen, gardien du château de Tourbillon © Pentamedia, Archives de la Ville de Sion, 2019
Interview mit Cédric Jossen, Aufseher auf Schloss Tourbillon © Pentamedia, Stadtarchiv Sitten, 2019
Interview with Cédric Jossen, custodian of Tourbillon Castle © Pentamedia, Sion Municipal Archives, 2019
Intervista di Cédric Jossen, custode del castello di Tourbillon © Pentamedia, Archives de la Ville de Sion, 2019