---
Une affaire de famille
Entrepreneur piémontais né en 1845, Michel Fasanino œuvre à Sion dès son établissement en 1883. A cette époque, la ville ressemble davantage à un bourg agricole qu'à une cité urbaine. Jusqu'à son décès en 1923, Fasanino contribue notablement à son expansion. Il collabore également avec les deux architectes incontournables de l'époque, Joseph de Kalbermatten et Joseph Dufour. Ce patron bienveillant dirige son affaire prospère en bon père de famille et laisse de nombreuses réalisations, en partie disparues aujourd'hui.
Ein Familienunternehmen
Der 1845 geborene piemontesische Baumeister Michel Fasanino liess sich im Jahre 1883 in Sitten nieder. In der noch stark bäuerlich geprägten Stadt trug Fasanino bis zu seinem Tod im Jahre 1923 massgeblich zur Stadtentwicklung bei. Er arbeitete ebenfalls mit Joseph de Kalbermatten und Joseph Dufour zusammen. Diese gehörten zu den führenden Architekten jener Zeit. Der wohlwollende Arbeitgeber führte ein florierendes Geschäft und hinterliess ein umfassendes Lebenswerk, von dem heute zahlreiche Bauten abgebrochen worden sind.
A family business
Michel Fasanino, a Piedmont entrepreneur born in 1845, worked at Sion after setting up business there in 1883. In those days, Sion resembled an agricultural township rather than an urban centre. Fasanino played an outstanding part in the city's expansion until his death in 1923. He also collaborated with the two most prominent architects of the period: Joseph de Kalbermatten and Joseph Dufour. This benevolent employer ran his prosperous business like a good family man. His legacy included many buildings, although some of them have since disappeared.
Un affare di famiglia
Imprenditore piemontese nato nel 1845, Michel Fasanino lavora a Sion sin dal suo insediamento nel 1883. A quell'epoca, la città assomiglia maggiormente ad un borgo agricolo che ad una città urbana. Fino alla sua morte nel 1923, Fasanino contribuisce in modo notevole all'espansione della città. Collabora con due architetti di spicco dell'epoca, Joseph de Kalbermatten e Joseph Dufour. Capo benevolo dirige la sua attività prospera come un buon padre di famiglia e lascia innumerevoli opere, ad oggi in parte distrutte.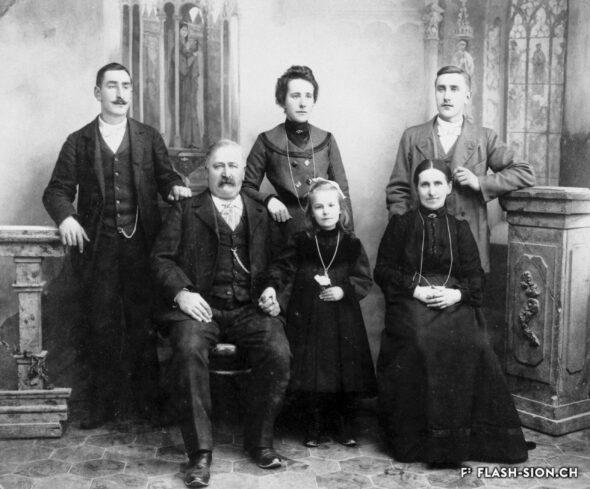 Famille Michel Fasanino, 1900 © Pierre Favrat – Sion, Collection privée Léonard Bertelletto
Familie Michel Fasanino, 1900 © Pierre Favrat – Sitten, Privatkollektion Léonard Bertelletto
Michel Fasanino and his family, 1900 © Pierre Favrat – Sion, Private Collection of Léonard Bertelletto
Famiglia Michel Fasanino, 1900 © Pierre Favrat – Sion, Collezione personale di Léonard Bertelletto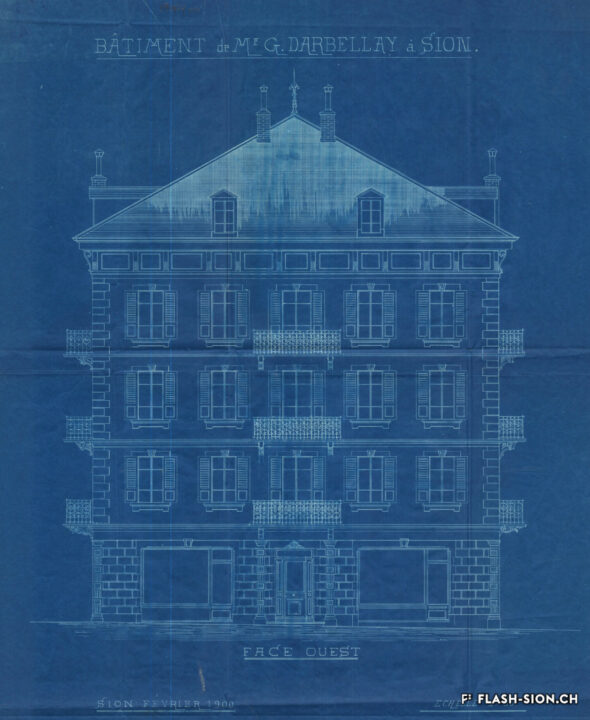 Plan de la façade ouest de l'Hôtel Suisse Schweizerhof, attribué à Michel Fasanino, février 1900 © Archives de la Ville de Sion
Westfassade des Hotel Schweizerhof, der Bau wird Michel Fasanino zugeschrieben, Februar 1900 © Stadtarchiv Sitten
Plan for the western façade of the Hôtel Suisse/ Schweizerhof, attributed to Michel Fasanino, February 1900 © Sion Municipal Archives
Prospetto della facciata ovest dell'albergo svizzero Schweizerhof, attribuito a Michel Fasanino, febbraio 1900 © Archives de la Ville de Sion
Publicité pour l'Hôtel Suisse à la rue des Cèdres, démoli en 1975 © Archives de la Ville de Sion
Werbung des Hotel Schweizerhof, Rue des Cèdres, abgebrochen 1975 © Stadtarchiv Sitten
Advertisement for the Hôtel Suisse on Rue des Cèdres, demolished in 1975 © Sion Municipal Archives
Pubblicità per l'Albergo svizzero alla "rue des Cèdres", distrutto nel 1975 © Archives de la Ville de Sion
Plan de la façade Sud de la villa Adrien Spahr, à la rue du Petit-Chasseur, construite en 1906-1907 et attribuée à Michel Fasanino © Archives de la Ville de Sion
Südfassade der Villa Adrien Spahr, Rue du Petit-Chasseur, erbaut 1906-1907 und Michel Fasanino zugeschrieben © Stadtarchiv Sitten
Plan for the southern façade of the Adrien Spahr Villa on Rue du Petit-Chasseur, built in 1906-1907 and attributed to Michel Fasanino © Sion Municipal Archives
Prospetto della facciata sud della villa Adrien Spahr alla "rue du Petit-Chasseur", costruita tra il 1906 e 1907, attribuita a Michel Fasanino © Archives de la Ville de Sion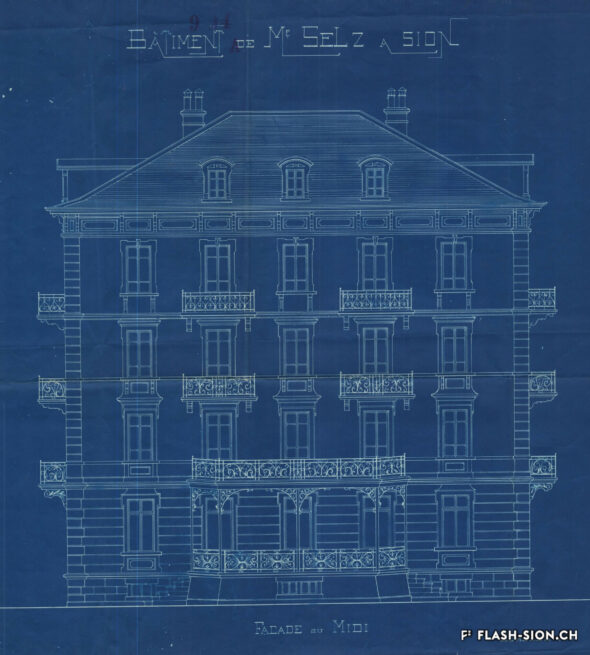 Plan de la façade Sud de la maison Selz à l'avenue de la Gare, construite en 1907-1908 et démolie en 1987 © Archives de la Ville de Sion
Südfassade des Wohnhauses Selz, Avenue de la Gare, erbaut zwischen 1907-1908, abgebrochen 1987 © Stadtarchiv Sitten
Plan for the southern façade of the Selz House on Avenue de la Gare, built in 1907-1908 and demolished in 1987 © Sion Municipal Archives
Prospetto della facciata sud della casa Selz all'"avenue de la gare", costruita nel 1907-1908 e distrutta nel 1987 © Archives de la Ville de Sion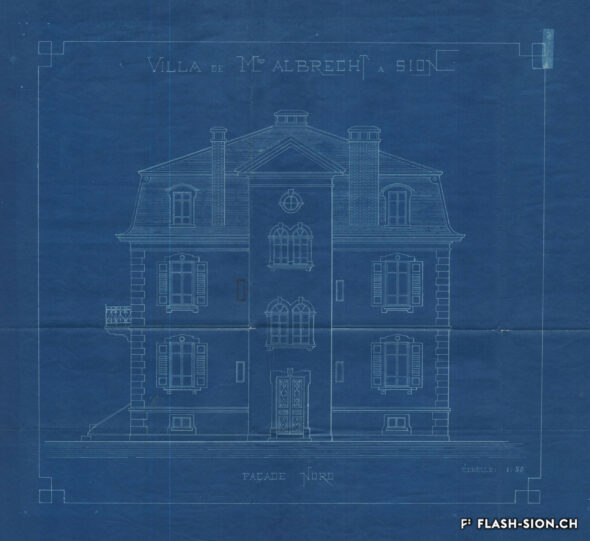 Villa locative pour Mme Célestine Albrecht à l'avenue de la Gare, construite vers 1910 et démolie en 2016) © Archives de la Ville de Sion
Villa von Frau Céléstine Albrecht, Avenue de la Gare, erbaut 1910, abgebrochen 2016 © Stadtarchiv Sitten
Rental villa for Ms. Célestine Albrecht on Avenue de la Gare (1910-2016) © Sion Municipal Archives
Proprietà locativa per Sig.ra Célestine Albrecht, Avenue de la gare (1910-2016) © Archives de la Ville de Sion
Maison Fasanino, à l'avenue Pratifori, construite en 1910-1912, démolie en 1985-1986 © Archives de la Ville de Sion
Haus Fasanino, Avenue Pratifori, erbaut 1910-1912, abgebrochen 1985-1986 © Stadtarchiv Sitten
The Fasanino House on Avenue Pratifori, built in 1910-1912, demolished in 1985-1986 © Sion Municipal Archives
Casa Fasanino, avenue Pratifori, costruita nel 1910-1912, distrutta nel 1985-1986 © Archives de la Ville de Sion
Maison Fasanino, avenue Pratifori, 1912-1915 © Collection privée Léonard Bertelletto
Haus Fasanino, Avenue Pratifori, 1912-1915 © Stadtarchiv Sitten
The Fasanino House, Avenue Pratifori, 1912-1915 © Private Collection of Léonard Bertelletto
Casa Fasanino, avenue Pratifori, 1912-1915 © Archives de la Ville de Sion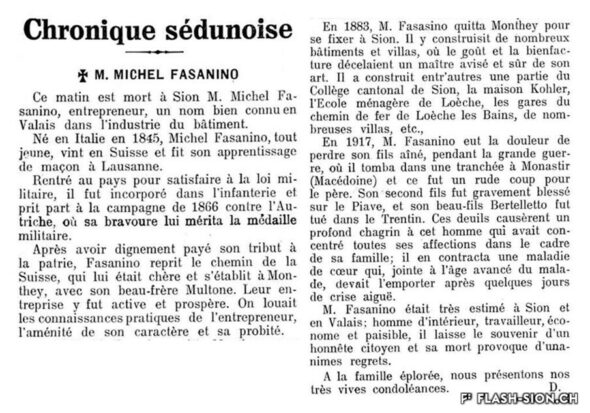 Chronique sédunoise, décès de Michel Fasanino © Journal et feuille d'avis du Valais, 11 septembre 1923
Sittener Chronik, Todesanzeige von Michel Fasanino © Journal et Feuille d'avis du Valais, 11. September 1923
Sion Chronicle (Chronique sédunoise), death of Michel Fasanino © Journal and Feuille d'avis du Valais (newspaper), 11 September 1923
Cronaca di Sion, decesso di Michel Fasanino © Journal et feuille d'avis du Valais, 11 settembre 1923