---
Sion marche sur ses tombes
Après la découverte unique en Suisse d'une inhumation d'un guerrier richement paré datant de 850 avant J.-C. au printemps 2017, la mise au jour d'un dolmen continue de passionner les archéologues menant les fouilles sur le site de la nécropole de Don Bosco à l'été 2018. Elle s'ajoute aux richesses archéologiques emblématiques et exceptionnelles et vient renforcer la renommée internationale dont jouit Sion dans le monde scientifique.
Verborgene Grabstätten auf Schritt und Tritt
Eine einmalige Entdeckung für die Schweiz: Im Frühjahr 2017 legten die zuständigen Archäologen im Grabungsbereich der Nekropole von Don Bosco ein Kriegergrab mit reicher Schmuckbeigabe aus der Zeit um 850 vor Christus frei. Nur gerade ein Jahr später, im Sommer 2018, erregte der Fund von imposanten Steinplatten eines Dolmens Aufsehen. Dieser bestätigt einmal mehr den aussergewöhnlichen und herausragenden, archäologischen Reichtum der Stadt und unterstreicht die internationale Bedeutung, die Sitten in wissenschaftlichen Kreisen zukommt.
Sion's buried treasures
In spring 2017, archaeologists were thrilled to discover a warrior's grave with a rich assortment of artefacts dating from 850 B.C. – the only one of its type in Switzerland. Excitement continued when a dolmen was found during excavations on the site of the Don Bosco necropolis in summer 2018. This find adds to the city's exceptional archaeological heritage of iconic treasures, consolidating Sion's international reputation in the scientific world.
Visite aux fouilles archéologiques de Don Bosco à Sion, 2012 © Canal9
Besuch der archäologischen Ausgrabungen von Don Bosco in Sitten, 2012 © Canal9
Visit to the archaeological excavations on the Don Bosco site at Sion, 2012 © Canal9
Tombe d'un guerrier découverte sur le site de Don Bosco, 2017 © Grammetry.com SA, Chamoson
Kriegergrab, das auf der Fundstelle von Don Bosco entdeckt wurde, 2017 © Grammetry.com SA, Chamoson
A warrior's tomb discovered on the Don Bosco site, 2017 © Grammetry.com SA, Chamoson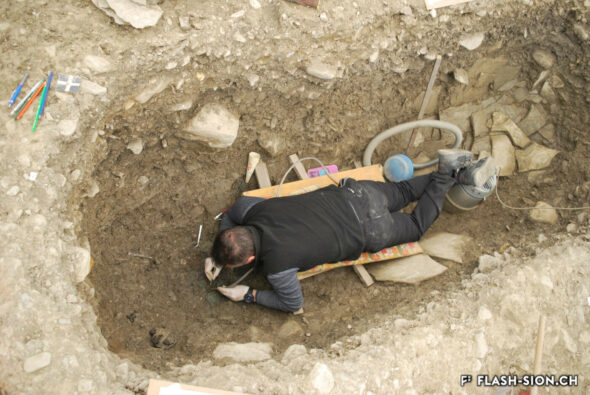 Tombe en cours de fouille, 2017 © ARIA SA, Sion
Grab während den Ausgrabungsarbeiten, 2017 © ARIA SA, Sitten
The tomb during the excavations, 2017 © ARIA SA, Sion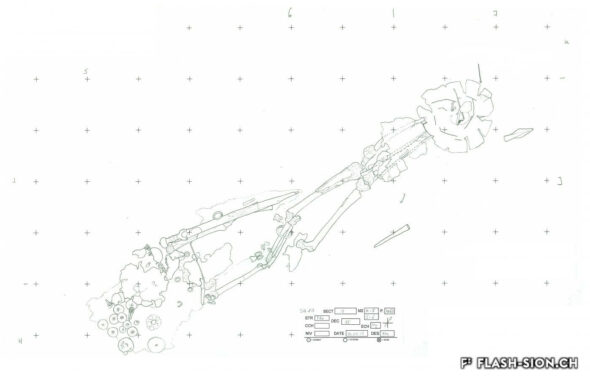 Dessin de la tombe du guerrier, 2017 © Service des Bâtiments, Monuments et Archéologie
Steingerechte Zeichnung des Kriegergrabes, 2017 © Dienstelle für Hochbau, Denkmalpflege und Archäologie des Kantons Wallis
Drawing of the warrior's tomb, 2017 © Buildings, Monuments and Archaeology Department
Détail de fouille, 2017 © ARIA SA, Sion
Detail der Ausgrabung, 2017 © ARIA SA, Sitten
Detail of the excavations, 2017 © ARIA SA, Sion
L'épée du guerrier, 2017 © ConservArt, Sion
Schwert des Kriegers, 2017 © ConservArt, Sitten
The warrior's sword, 2017 © ConservArt, Sion
Détail d'un élément de coiffe, 2017 © ConservArt, Sion
Detail eines Teils des Kopfschmuckes, 2017 © ConservArt, Sitten
Detail of part of a headdress, 2017 © ConservArt, Sion
Les archéologues ont découvert à Sion un monument funéraire d'exception: un dolmen daté de 3000 ans avant notre ère!, 2018 © Canal9
In Sitten haben Archäologen ein aussergewöhnliches Grabmal entdeckt: ein Dolmen, der auf 3000 Jahre vor unserer Zeitrechnung zurückführt!, 2018 © Canal9
Archaeologists have discovered an extraordinary funeral monument at Sion: a dolmen that dates back 3000 years before our era!, 2018 © Canal9
Interview de François Mariéthoz, archéologue cantonal adjoint © Pentamedia, Archives de la Ville de Sion
Interview mit François Mariéthoz, stellvertretender Kantonsarchäologe © Pentamedia, Stadtarchiv Sitten
Interview with François Mariéthoz, Assistant Cantonal Archaeologist, © Pentamedia, Sion Municipal Archives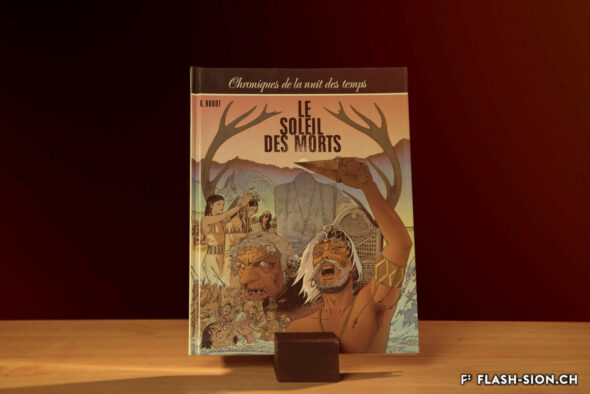 Illustration des stèles découvertes sur le site archéologique du Petit-Chasseur au travers de la bande-dessinée « Le soleil des morts », 1992 © Pentamedia, André Houot & Alain Gallay – Editions du Lombard, Bruxelles
Abbildung der gravierten Stelen der archäologischen Fundstelle des Petit-Chasseur im Comic "Le soleil des morts", 1992 © Pentamedia, André Houot & Alain Gallay – Verlag Le Lombard, Brüssel
Illustration showing the stelae discovered on the Petit-Chasseur archaeological site, as depicted in the strip cartoon "Le soleil des morts" ("The Sun of the Dead"), 1992 © Pentamedia, André Houot & Alain Gallay – Editions du Lombard, Brussels